PG Vargis
29-year-old P.G. Vargis, a soldier in the Indian Army, serving in the Himalayan Mountains, received Jesus Christ as his Saviour. His life was so dramatically changed that within three months he was sharing the Gospel with people everywhere. In 1977, P.G. and his wife Lilly Vargis founded Indian Evangelical Team (IET), one of the largest and fastest growing indigenous church-planting missions in India.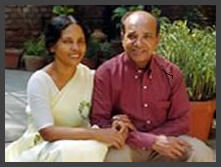 Reaching the Un-reached at Any Cost
South Asia has the largest number and the highest concentration of unreached people groups in the entire world. It is definitely one of the darkest and harshest areas for the gospel. In addition, the fierce, growing persecution in recent years has made this one of the most difficult and dangerous regions to spread the gospel in the entire world. Yet, this is where God has placed IET. And, we are committed to His call—to reach the unreached in South Asia, at any cost!
With a motto: to reach the unreached at any cost, the ministry expanded from its beginning in Kashmir to include the entire Indian subcontinent. Today, IET, headquartered in New Delhi, supports more than 2,100 national pastors, and has planted churches in twenty states of India as well as neighboring Nepal and Bhutan; an amazing record. IET churches have roughly 200,000 members, 93% of whom are first-time converts. In 2004, IET pastors led to the Lord and baptized 20,453 people.
To train pastors, IET has started a Bible College in New Delhi.